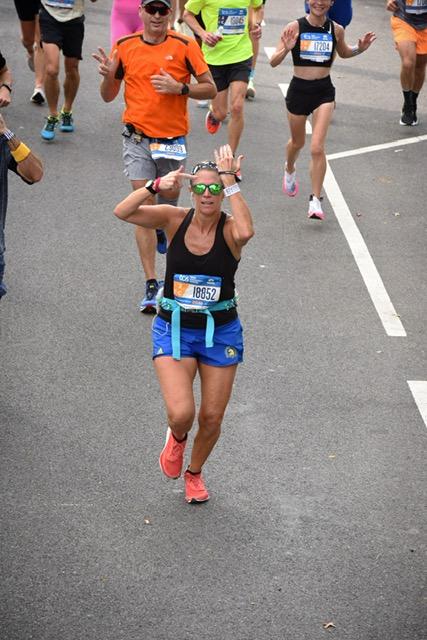 On November 6, 2022, I was at the starting line on the Verrazano bridge wearing my live a good story bracelet. During the national anthem, I reflected on "my personal why" for running the NY marathon. I decided to have a personal conversation with Josh by telling him he was my source of inspiration. I also told him, "I am not running this race for you; I am running this race with you."
The first 8 miles went as planned. I was on pace, and I felt good. At mile 14 the soupy hot weather became problematic. I stopped sweating and my head ached due to dehydration. When this occurs in runners, they start having doubts, lack self-confidence or convince themselves to quit. To prevent this from happening to me, I touched my live a good story bracelet and surrendered all my negative self-talk to Josh.
Some people call this a coincidence, but I call it a spiritual message. The moment I touched my live a good story bracelet, a photographer was pointing their camera in my direction. Immediately I lifted my bracelet to capture this one moment of Josh's legacy.  My body and mind soon shifted from dwelling on my estimated finish time, to becoming grateful for this opportunity.
For the remaining miles, I decided to live like Josh. I stopped to give high fives to cheering kids and I thanked police officers for their service. I felt the warmth of all the supporters lined up along the route. I expressed my gratitude to the volunteers and medics who handed me water and salt packets. I became energized by my fellow runners who all shared the same purpose of going the distance.
Josh, your footprint expanded from Staten Island to Central Park. You awakened my senses to see, hear and feel more. When I crossed the finish line, I knew my race was not over. By choosing to be kind, being more compassionate to the less fortunate and to continue to live every day to the fullest, is a message and deed I will continue to pay forward to others.  #LiveLikeJosh.